The Best Cryptocurrency Exchanges in 2019

Whether you're a newcomer to the cryptocurrency scene or an experienced user, having the knowledge of which exchange to trust and what it offers is always of value. No matter if you're searching for the best cryptocurrency exchange or most trustworthy crypto trading platform to buy bitcoin or altcoins with fiat money, you'll find the necessary information in this article. Furthermore, you'll have an overview of their key selling points and a guide on how to go about your decision.
Types of Exchanges
Before diving into the reviews, let's first have a look at what types of exchanges you can come across, what the differences are and determine your needs.
The most common ones and most likely – your entry point into the world of crypto, is the fiat-to-crypto exchange. This type of exchanges offers customers the ability to purchase cryptocurrency coins and/or tokens using USD or other fiat currency of their choice. Be that using a credit card or a bank transfer, you will have the ability to use your US dollars, Euros or perhaps even your local currency to complete the transaction.
If you're already the owner of some type of crypto, you can take advantage of crypto to crypto (C2C) exchanges. There you can find various pairs, most frequently linked to either Bitcoin or Ethereum.
To maximize your gains and for the best utility, you'll probably need to make use of both types. This is because depending on your location and local laws, certain restrictions might apply. Also, you could be interested in a coin that is simply not that widely spread and need to go over a few hurdles to obtain it. A common occurrence is buying Bitcoin with fiat and then transferring your BTC to a crypto-to-crypto exchange which has the currency of interest. Examples of both alternatives will be provided further in the article.
Choosing where to buy cryptocurrency from is mostly a personal preference choice, however, there are some key factors that you need to consider before that, namely:
Trading Pairs - what is the availability and how diverse are the offerings
Payment Options – how can you deposit/withdraw funds
Liquidity – the more transactions take place, the more currency volumes you'll have at your disposal
Fees – how much are you expected to pay when transacting
Safety – a key point in your crypto related dealings, you should review the security of the exchange's website and servers
User Experience – is it easy to use, i.e. beginner-friendly or do you need significant trading experience to use it effectively
Customer Support – can you rely on someone having your back when you're having trouble with the trading platform
Best Fiat-Cryptocurrency Exchanges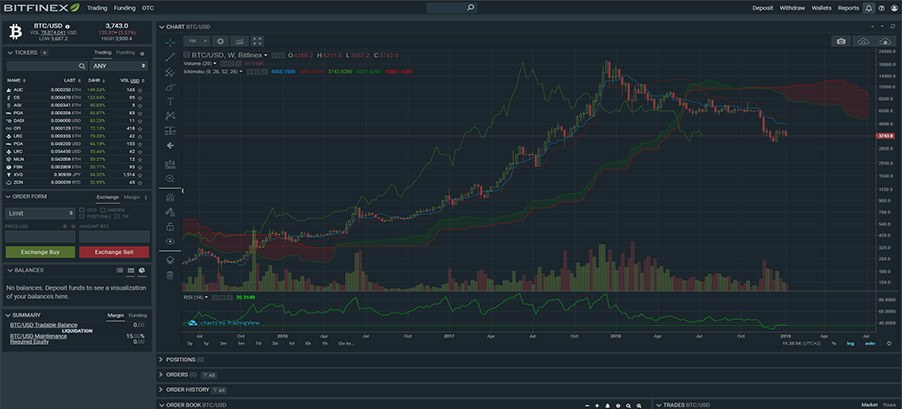 One of the major exchanges on the market, Bitfinex provides users with a large volume of trade – nearly $2B worth, per day, in addition to handling over 6% of all BTC/USD trading on the market. This Hong Kong-based entity offers users more than 70 active currency pairs and provides customers with low fees: 0.1% for makers and 0.2% for takers. Do keep in mind that there's limited access from certain countries and US residents are prohibited from trading on the platform.
In summary, why you should choose Bitfinex:
High liquidity and major market player
Secure platform with long years of experience
Low fees
Various supported currencies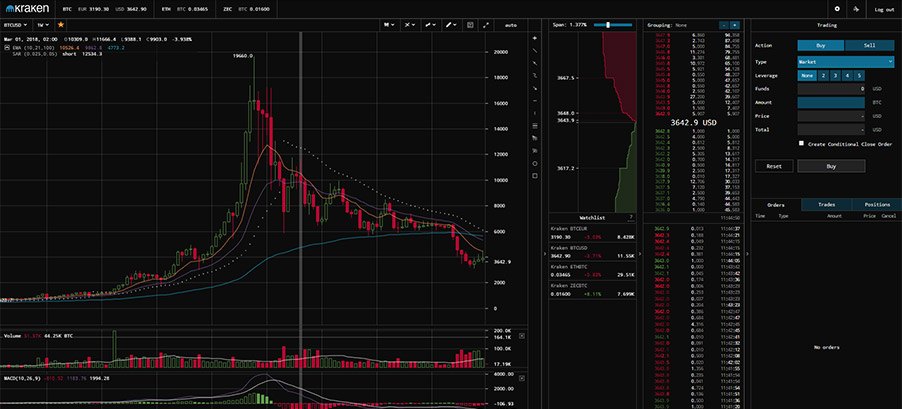 Kraken is another major player in the cryptocurrency exchanges league. Founded back in 2011 in San Francisco, USA, the platform launched for the public in late 2013. Over the upcoming year, it managed to gain the trust of users and even became the top exchange based on trading volume for Bitcoin/EUR.
A notable fact about its development is that Kraken was the first exchange to complete a cryptographically secure audit. As you've probably deduced, security is a major factor of the exchange's operations. Users are protected via two-factor authentication, cold-storage options, encrypted email communication from the exchange, signed with a PGP key and others.
Depositing or withdrawing USD from/to US-based banks warrants a $5 fee, while international transfers are with $10 deposit and $60 withdrawal charge. EEA countries EUR SEPA withdrawals are only €0.09 while deposits are free of charge.
To help better overall security and ensure brand loyalty is rewarded, Kraken has implemented a tier system with 4 levels that come along with different trading limits and varying levels of KYC policy. Overall, it's a solid choice for beginner and advanced traders alike.
Why you should choose Kraken:
One of the prime exchanges
High levels of security
Acceptable fee levels
Unique website status tracking
Margin trading
Now is the time to introduce the first participant from Europe. BitPanda is based in Vienna, Austria. Established in 2014 it's a relatively new member on the market, yet it is one of the older exchanges in Europe. Rebranded from Coinimal in 2016, it provides a completely new service to more than 850,000 registered users.
Fees of 1.49% for buying orders and 1.29% for selling are a bit on the higher side, compared to other competitors. However, on the positive side, there are no fiat deposit fees. If you're using your credit card, you might be charged by your bank, but not by BitPanda. Available currencies are over 12, among which are BTC, LTC, ETH, XRP, BCH, and MIOTA.
Why should you use BitPanda:
Being based in Europe could prove a plus for some users due to legal reasons
No deposit fees
Easy purchase of major crypto coins using fiat money
Supports USD, Euro, British Pounds, and Swiss Francs
Easy to use interface, perfect for beginners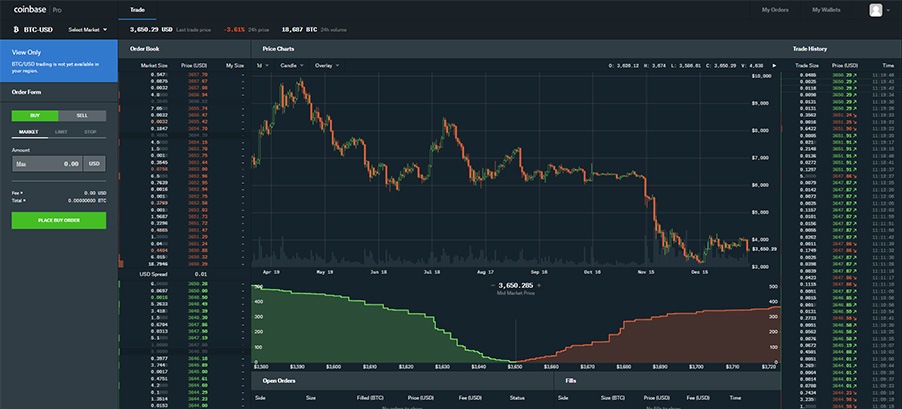 Coinbase is the go-to exchange for beginners in the crypto world. Not only does it offer all the major cryptocurrencies like Bitcoin, Ethereum, Bitcoin Cash, Litecoin and Ethereum Classic, it also provides you with the opportunity to instantly buy them, if you provide a credit card. From there on out, you can freely exchange those coins on crypto-to-crypto exchanges for other altcoins to your heart's desire.
Do keep in my mind that this convenience comes at a price – when depositing your funds, you'll be charged anywhere from 1.49% for bank transfers originating in the US or SEPA in Europe, up to 3.99% for credit card payments.To learn more, visit their official website to explore Coinbase's fees in detail.
In summary:
High liquidity and purchase limits
Simple interface that helps beginners easily buy crypto
Option to instantly buy and receive funds when using a credit card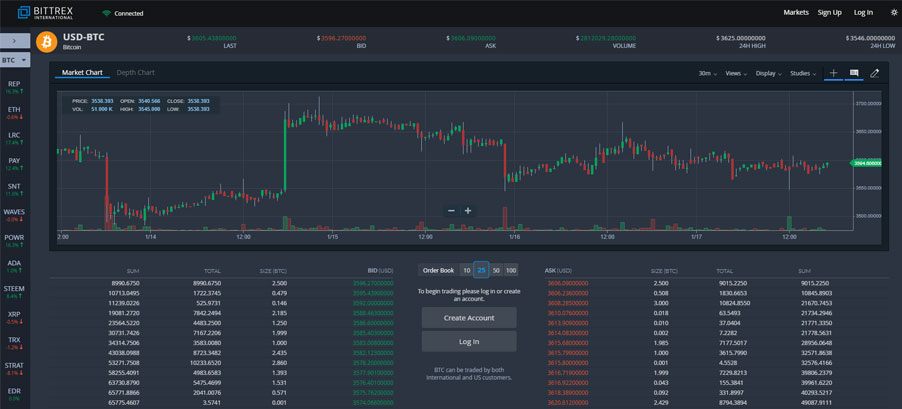 Bittrex is another US-based representative which despite not being very high in the rankings based on trading volumes, is still highly trusted by the cryptocurrency community. While the main company was founded in Seattle, Washington, it has recently expanded with a branch in Malta.
Coin support is among the best in the industry, while fees are at a flat 0.25% rate for all pairs. If you're eager to become a market maker, this might be an inconvenience and that is why, Huobi would be a better option for you.
The customer support team has been expanded over the years and is much faster to respond than previously. While there's no landline to call, you're free to contact them via their website, unofficial subreddit or via their Twitter account.
Key selling points of Bittrex:
A lot of customization options to fit the needs even of advanced traders
Low fees
Corporate accounts
Available API for enthusiasts to create custom trading scripts
Great customer support and short verification times
Trusted exchange with over 250 currencies supported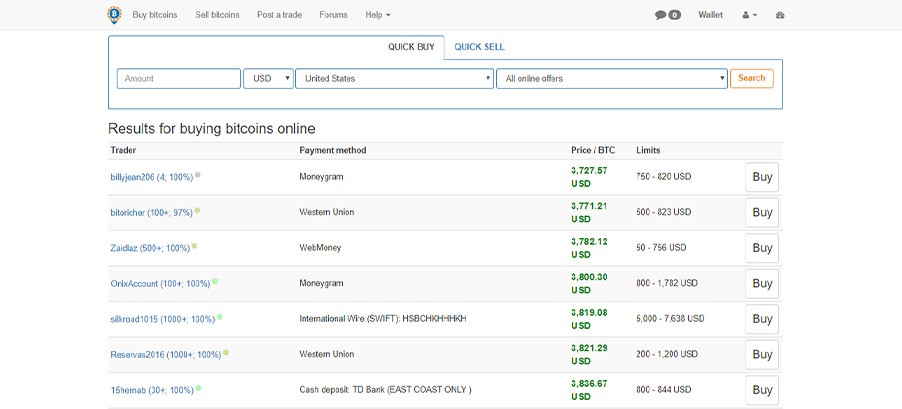 LocalBitcoins is a peculiar exchange. It offers not only Peer-To-Peer (P2P) exchanges but also the ability to communicate with other users and establish face to face meetings. This method is preferred by people who want to achieve maximum privacy and not have any linking of the account via the exchange. There are various payment methods supported, yet coin availability, as the name of the website suggests, is limited to just Bitcoin. To start trading, visit their website to find a trading partner, that fits your expectations and/or budget. You can explore the rating of each registered user and determine whether or not you would like to transact with them.
To point out the key benefits of LocalBitcoins:
High security levels
Fast settling of disputes via support
Low fees (1%)
Availability in almost every country (except Germany) and the possibility to trade with people in person, locally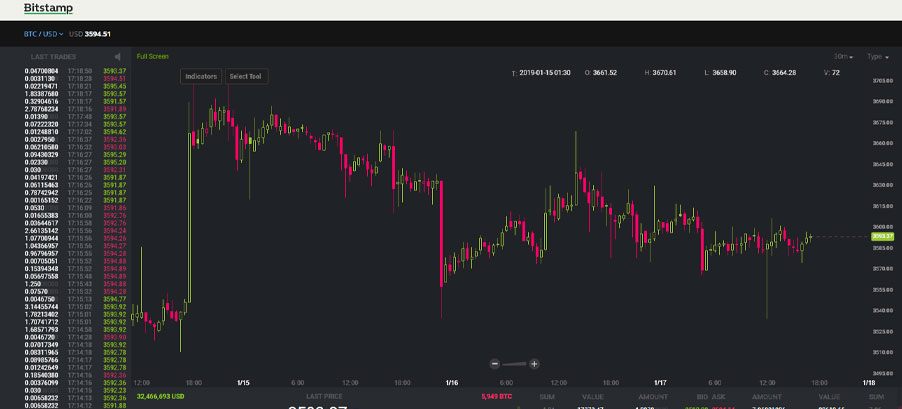 Once again, we have an EU based exchange, this time from Slovenia. Established all the way back in 2011 by Damijan Merlak and Nejc Kodric, it was envisioned as an alternative of the then popular and market leader – Mt. Gox. It has since then enjoyed a lot of attention and has expanded into the UK, Luxembourg and New York.
Bitstamp is a popular cryptocurrency exchange among advanced and pro crypto enthusiasts. Their cold storage practices are among the best in the industry and thus the security of their exchange wallet is up to snuff. Furthermore, hot wallets connected to the platform use multi-signature transactions to further guarantee the safety of users' funds and giving them some peace of mind. The website itself is also secured by AES-256 encryption, which you should always check to ensure you're not being redirected to a phishing site (you'll see an SSL padlock in the left of your browser's address bar).
Fees are on the low side, with free SEPA transfers funding and only 0.90 EUR withdrawal tax when requesting from Bitstamp. If you don't have an EU bank account, however, the international deposit fee is 0.05% or a minimum of 7.5 USD. Withdrawal, in this case, is 0.09% or minimum $15.
When registering, keep in mind that they do have a KYC policy in place and you will be required to share some personal information. However, most users are of the opinion that this increases the security levels even more.
To summarize, here's what you can expect when choosing Bitstamp:
Great reputation in the crypto world
Low fees for EU customers
Industry-leading security measures
A huge amount of supported coins, Bitstamp is deemed the "fiat gateway" into crypto
Convenient mobile application for monitoring and simple trades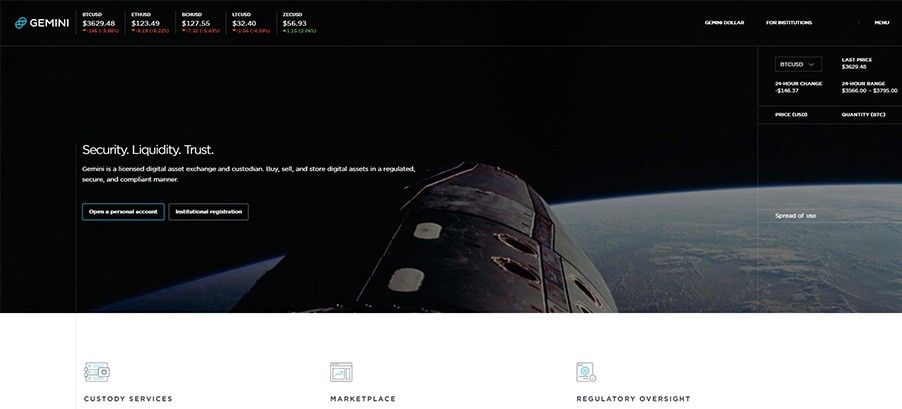 Gemini is yet another exchange based in New York, in a matter of fact – the first ever exchange that received an official Ether trading license in 2016. While coins offerings are limited in numbers (BTC, ETH, BCH, LTC, ZEC), the exchange is fully registered according to all state laws and adheres to a high professional standard. USD accounts are ensured, and the exchange is open to customers from the UK, Singapore, Canada, South Korea Puerto Rico, and Hong Kong.
Security levels are on par with other major exchanges on the market. Two-Factor authentication is enabled by default and required for either logins or withdrawals, all account passwords are encrypted and the communication between the users and Gemini's servers is also encrypted while in transit.
Reasons to consider Gemini:
30 free withdrawals per month and a low, 0.25% flat fee afterward
High levels of security
USD accounts are fully insured and fully compliant with banking standards
User-friendly interface and professional customer support
Best Crypto to Crypto Exchanges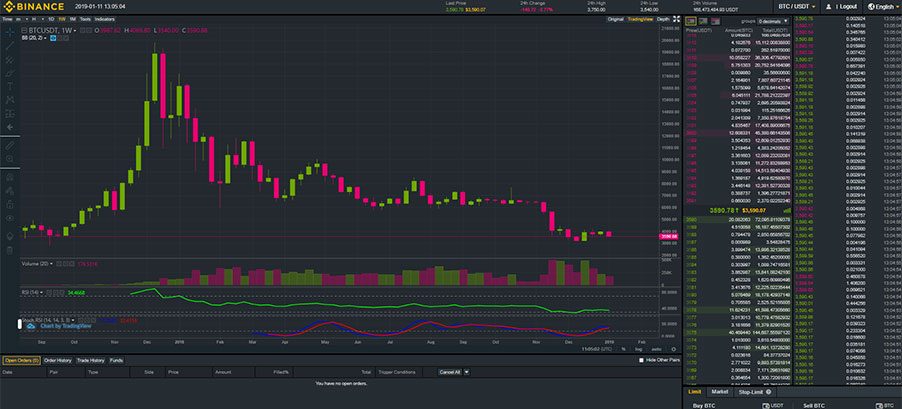 Binance is the market leader among all crypto to crypto exchanges. Launched in 2017, it quickly raised over 15 million US dollars in funding from investors. Initially based in Singapore, it was relocated to Malta due to the country being cryptocurrency friendly.
The interface of Binance is easy to use and you have access to an excellent support page if you have any questions. Provided you can't find the answer there, you can also join the official Telegram group and request an answer from the admins.
Deposits are free of charge, yet withdrawals are taxed, as with any other exchange, yet the rates are all in all, very low. You can learn more by visiting the dedicated page.
If you're eager to have access to a huge number of altcoins, one of the highest liquidity rates and a well-maintained platform, simply visit their page and register.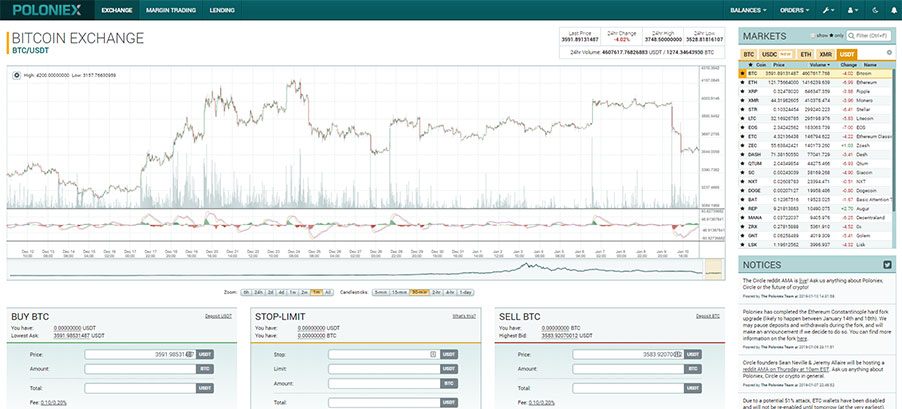 Before people had access to exchanges such as Binance, Kucoin or Huobi, Poloniex was the go-to place for trading a vast number of altcoins. In 2017 it was the largest Ethereum exchange based on average volume and in the top 10 across all fields of trade. While based in the US, it doesn't operate under any geo restrictions.
Despite suffering an attack and having some of its BTC stolen, Poloniex remains a well-trusted brand. Not only did they then offer partial refunds to those affected, but they've also implemented various, top of the line security measures to ensure such an event doesn't happen again. Cold storage and constant monitoring, keeping a limited number of coins in hot wallets and the availability of two-factor authentication ensure this.
You can check the fees in detail on their official website. In general, you can expect a 0.15% maker and 0.25% taker fee. Withdrawals are limited to $2,000 per day for level 1 accounts and can be increased to $25,000 for level 2, i.e. when you provide personal information to identify your account. As more and more exchanges are required by authorities to comply with KYC policies, Poloniex is no exception. In any case, by registering, you'll have the ability to take part in margin trading, if that's your cup of tea.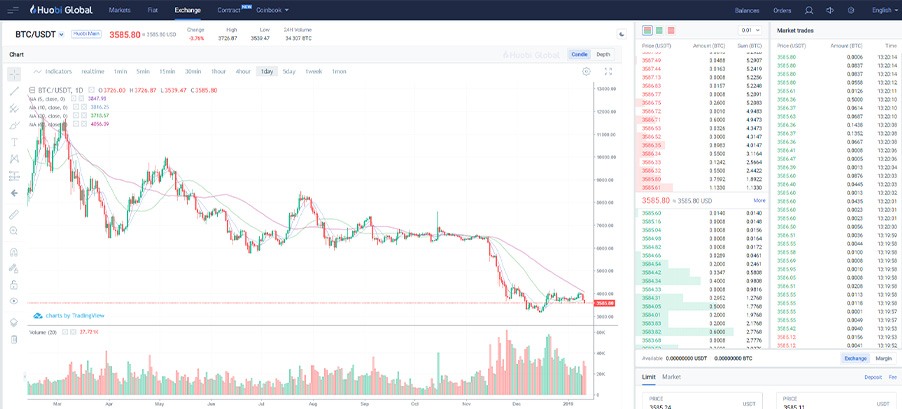 The Huobi exchange is just part of what is underway to become a cryptocurrency empire, under the main brand Huobi Global. While the business has expanded into many different fields including mining and investments in blockchain startups, Huobi itself hasn't suffered. On the contrary, it has grown to over 1,000 employees and supports more than 130 countries across the globe where users participate in trading cryptocurrency on a daily basis.
Despite being in the top 4 exchanges, based on overall trading volume, Huobi has remained user-friendly and keeps fees low – 0.2% for both makers and takers. VIP members of the exchange have different level discounts which range from 10 up to 50 percent. You can also make use of the excellent mobile app Huobi has to offer. When operating on the exchange, you need to keep in mind that if you choose not to verify your account as per KYC policy, you will be limited in your withdrawal amounts.
As with most other top-level exchanges, security is a priority at Huobi. You are protected by all-around encryption and two-factor authentication. If you get other people excited about the opportunity to trade, make sure to first create an account and then make use of the referral program. You can earn a 30% commission on their trades, in the form of USDT.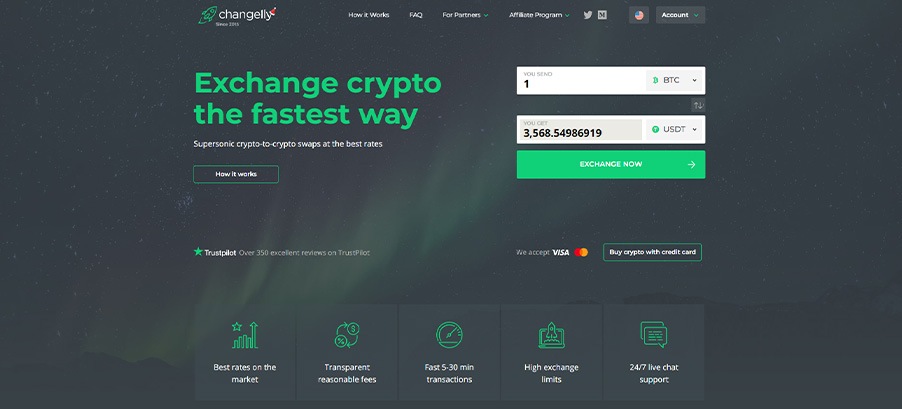 Changelly is one of the go-to platforms for beginners and advanced traders alike. It's a convenient way to trade your crypto coins for other ones and while it does also support fiat, in general, you're better off using one of the previously mentioned alternatives in the article for that.
While using Changelly, you'll access a comprehensive yet simple interface which allows you to check exchange rates, fee amounts and directly see how much you'll get in the end. Furthermore, you'll receive an estimate on how long the process will take. Trading fees are flat and set at 0.5% per transactions which is pretty low, compared to other alternatives. To avoid spammers on the platform, you're required to deposit a minimum amount to cover network fees, so make sure you have that amount left, besides the funds you want to transact. Regarding security, none of your funds are actually stored on the exchange, they're immediately sent to cold storage for safe keeping.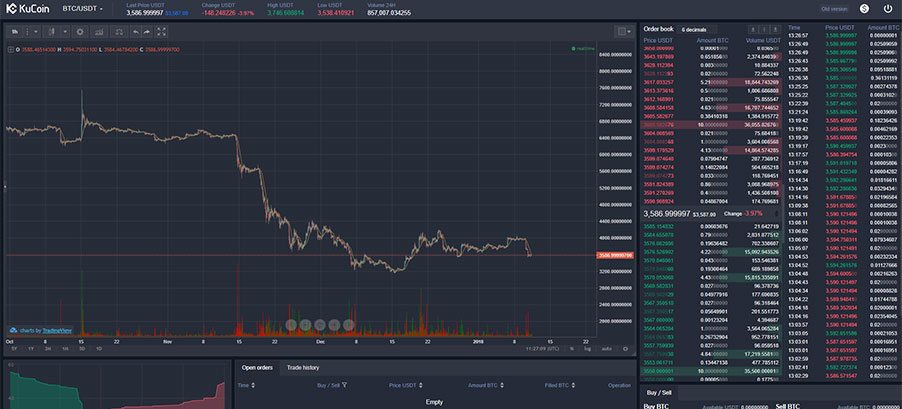 If you're eager to explore a huge amount of altcoin pairs, Kucoin is the exchange to visit. Currently, it has over 180 trading pairs available, which are linked not only to Bitcoin but also to Ethereum, NEO, BitcoinCash, and Tether. While they're not proportionately distributed, the options are various and surely, you'll be able to find what you're looking for with ease.
Fees are on the low side, with 0.1% being the most common. What's interesting is the fact that you don't need to pay any tax to withdraw assets like NEO and NEO Gas. On some occasions, there are no fees at all, no matter the crypto you're interested in. In addition, only 10% of collected fees is actually retained by KuCoin, the rest is given back to users in the form of bonuses. There's a referral program in place, which allows you to earn a percentage of all trades that people invited by you perform. You can also buy and hold special KuCoin tokens, similar to company shares, and receive dividends from collected fees.
Support is another key concern for users, besides security, which is on par with market leaders. If you're having any issues with the platform, you can rely on 24/7 support. Additionally, KYC policies aren't mandatory but you're limited to withdrawing up to 2 BTC worth of crypto per day.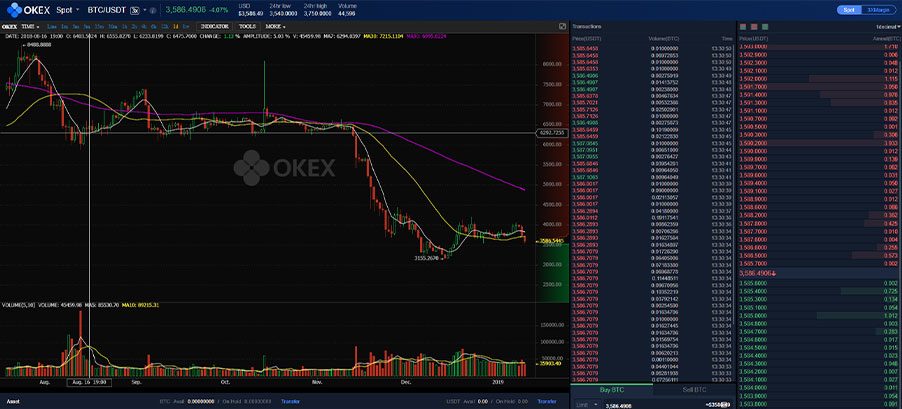 Last, not least – we have Okex. An initially Chinese only platform, the team behind decided to expand its dealings and had it professionally translated into English, to serve a wider audience. A key factor of this platform is the fact that there are no limits imposed on the user. You're free to trade as much as you want, and you can deposit funds in BTC, LTC, ETH, ETC, BCH, XRP, and XEM. Withdrawals, however, are limited to BTC, ETH, ETC, and LTC.
Depending on your account level, you can expect maker fees between 0.15 and 0.02 percent, while takers pay from 0.2 to 0.05 percent. Mentioned previously, there's no limit to trading on this account, but there's a catch – unverified accounts can trade up to 1,000 BTC per day. You could say that this is synonymously interpreted as "no limit" since not many people will actually reach that figure, but it is something to keep in mind.
The platform enforces a high level of security measures with cold storage of coins and offsite backups. Private keys, while managed by Okex, are never stored on USB devices, nor have access to the internet. Getting started with Okex is as easy as visiting their website and registering an account. You can make use of low fees, futures trading and an overall comprehensive and easy trading experience.
Conclusion
After reviewing all the best cryptocurrency exchanges, a conclusion can be reached that market leaders, whether they support fiat to crypto or crypto to crypto, have a few traits in common:
High levels of security
Relatively low fees
User-friendly interface
Convenient mobile apps
Which one you end up choosing, comes down to personal preference. Whether or not they support the currency you're interested in, are you limited due to geo-location or local laws and other such factors. For some of you, signing up to multiple exchanges could be of a benefit, as it would allow you broader access to more and various cryptocurrencies.
On a final note, having read this article, you can safely say that you're informed on the best places to buy cryptocurrency from. Again, keep in mind that on crypto-to-crypto exchanges you can only swap between your already owned crypto and on fiat exchanges, you can purchase various coins for everyday traditional currencies like USD, Euro, British Pound etc.
FAQ
How to withdraw funds from an exchange?
If you want to withdraw cash, you'll need to first convert your crypto into the currency of interest. This is, of course, done for a fee. Next, provide an IBAN to have it transferred to your bank. If you're simply moving crypto from your exchange wallet to your own personal one, all you need is a receival address and again, pay for the transfer.
How do I deposit funds to an exchange?
Put shortly – it depends on the exchange and what options it has to offer. You might need to initiate a bank transfer or use your credit card when buying crypto. Another alternative is simply transferring your crypto coins into your account. In either case, you would first need to register and create an account. Most exchanges don't charge you for depositing a sum, but you will pay a tax when using said amount.
What is KYC?
KYC or Know Your Customer is a policy enforced by certain governments, mandating that users of a certain exchange register with their personal information. This is done as an anti-money laundry measure and to ensure users are not taking part in any criminal activity. This type of policy is commonly used in banks and has made its way to crypto exchanges.